Date/Time
Date(s) - June 27, 2019
10:45 am - 12:45 pm
Unique opportunity for DVJC members and friends to visit this unbelievable collection!!

A Tour of the NB (Nicola Bulgari) Center in Allentown
We will have lunch nearby at the Bull and Bear Diner afterward!
Thursday June 27, 2019
The NB Center is a 21 acre compound located on the site of a former drive-in movie theater; the screen is still there and is used regularly. The compound houses Mr. Bulgari's private collection of over 150 cars, mostly American cars from the 30's and 40's. Among the collection are several cars that most of us have seen in the movies, such as the taxi from "It's a Wonderful Life". In addition to the collection there is perhaps the most comprehensive automobile restoration facility in the world. Each discipline of the restoration process has a separate building. Many of the same tools and machines that were used to originally build the cars have been restored and are in use restoring the cars. The full time staff, more than a dozen technicians, restores the cars as they were built with the same materials and craftsmanship regardless of cost. The Compound also houses the Historic Vehicle Association Laboratory. This is a rare opportunity to see a unique facility dedicated to the preservation of the automobile.
Please RSVP Online by Monday June 24th
When: Thursday June 27th at 10:45
Where: The NB Center
540 Union Blvd
Allentown, PA 18109
Note: Enter through Gate in the middle of the block and drive to the Lodge.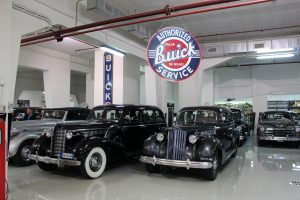 You may also email Paul Merluzzi at Pawlym@aol.com to confirm your attendance.
THE LUNCH MENU FOR THE BULL AND BEAR SEE LINK BELOW:
https://www.bullandbear-allentown.com/wp-content/uploads/2016/04/BullBearlunchdinner.pdf
Event Type:
Registration/Tickets:
PLEASE NOTE: Registered DVJC Members - if you have NOT logged in, please LOG IN HERE before registering for any event. This will prepopulate the registration form and keep the member lists and event records in order. Thank you!
Online registrations are no longer available for this event.
To request a late registration or to cancel your booking, please contact Treasurer@delvaljaguarclub.com