Date/Time
Date(s) - July 26, 2020
11:00 am - 3:00 pm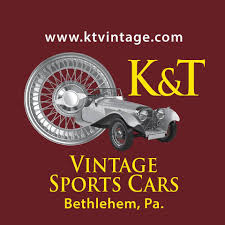 TO SELL, FREE TO ATTEND
K&T Vintage Swap Meet
Sunday, July 26 • 9:30am – 2pm
You probably haven't been out to many car events so far in this Year of COVID-19, so here's your chance!

K&T Vintage Sports Cars is hosting a Swap Meet on Sunday, July 26 — an all-outdoor event on our spacious grounds. We are on a 3.6-acre lot with grass and trees, so lots of room to spread out and be socially distant.

This is change of plans from the open house party and informal car show we expected to hold this date. Of course, if you'd like to bring your classic car, we'd love to see it! But we will be limiting indoor activities at the shop.

And of course, as always, it's a good excuse to get together and talk cars, ask questions, and share automotive camaraderie at the appropriate distance.

So head to your garage, basement or other place where you stash your car stuff and start collecting all the parts and other things you're never going to use, but someone else might need.

Parts, manuals, books, accessories, or whatever. Bring your own table, or a blanket or tarp to spread out your stuff on our lawn. You can bring a pop-up tent if you'd like, or sell from the trunk of your car or truck.

No charge — But if you're coming to sell or swap, please RSVP so we know how much space to set aside.

SWAP MEET SELLERS RSVP:
ktvintagecars@rcn.com
or call 484-281-8085.

We will have individually wrapped sub sandwiches and canned drinks/bottled water available. Or bring your own picnic lunch or snacks.

We'll have hand sanitizer on hand. Please bring your mask as well as a chair to sit in outside. Shady spots available if it's hot.

And yes, our bathrooms WILL be open inside … one man, one woman at a time!
Event Type: