Date/Time
Date(s) - October 14, 2022 - October 16, 2022
12:00 am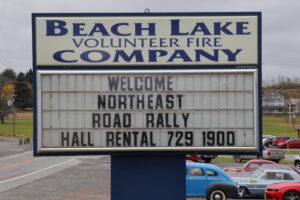 It won't be long and fall will be coming and so will the end of the 2022 rally season.
We are looking forward to seeing you in Beach Lake, PA on October 14, 15, 16.
Northeastern Pennsylvania is wonderful this time of year.
The Beach Lake Volunteer Fire Company is anxious to welcome us and are very grateful for our support.
This year's Penn–York Rally will be a fun way to end the rally season and enjoy the comradery and competition with your rally friends. There is a great assortment of cars in the rally everything from a 1911 Hillclimber to VW Golfs, mid-century muscle cars, and even pre-war specimens, To our northern and southern friends, we are located between the New York and Delaware rallies so this is a short drive for everyone!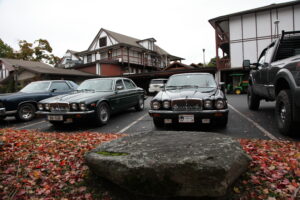 Accommodations: Central House Resort. The phone number is 570.729.7411.
The address: 81 Milanville Rd, Beach Lake, PA 18405. Be sure to ask for Northeast Rally Club rates.

If you've been here before, you know how special the place is and that the people are just as nice.
After you visit them once, you will want to come back and enjoy all of the amenities they have to offer! Their website is http://www.centralhouseresort.com.
They are located near the fire hall. I hope you will put the dates on your calendar.

Here are the 2 entry forms: http://northeastrallyclub.music-mojo.com/wp-content/uploads/2022/08/2022-Penn-York-Rally-Entry-and-First-Letter.pdf



See you in Beach Lake! We will have a great weekend!
Event Type: