Date/Time
Date(s) - May 26, 2019
7:30 am - 10:30 am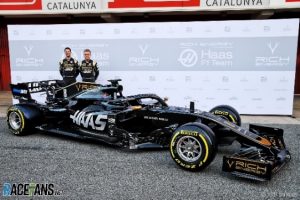 The first all-American Formula 1 team in three decades, Haas Racing, showed off its new car for the 2019 F1 season for the first time during testing on February 18th at the Circuit de Catalunya. The VF-19 ran for the first time in a filming day ahead of the start of testing at the Spanish circuit.
Kevin Magnussen and Romain Grosjean are the drivers again for the 2019 season.
MONACO FORMULA 1 GRAND PRIX VIEWING
MAY 26, 2019 7:30 am
Join your fellow DVJC members and other automotive aficionados at a breakfast buffet and live viewing of this year's Monaco Formula 1 Grand Prix Race at La Locanda Ristorante Italiano on Sunday May 26 from 7:30 am to 10:30 am. The breakfast buffet is $26 per person plus tax and gratuity and includes a complimentary mimosa. A cash bar is available for additional drinks.
Don't miss this fine Grand Prix Brunch and be prepared for an outstanding display of vintage and exotic sports cars in the parking lot. La Locanda's owners, Mario Palumbi and Franco Stefanatto, are avid car enthusiasts and Formula 1 Grand Prix Racing fans. Enjoy a delicious brunch and a fantastic Grand Prix Race. Alas no Jaguar team, but let's have a major showing of British felines to overwhelm the Italian, German, and French examples that show up.
YOU MUST SIGN UP FOR THIS EVENT BY MAY 19
PLEASE USE THE DVJC WEBSITE https://delvaljaguarclub.com/ AND CLICK THE Event Schedule TAB OR SEND AN EMAIL MESSAGE TO PAUL MERLUZZI AT pawlym@aol.com.
Event Type:
Registration/Tickets:
PLEASE NOTE: Registered DVJC Members - if you have NOT logged in, please LOG IN HERE before registering for any event. This will prepopulate the registration form and keep the member lists and event records in order. Thank you!
Online registrations are no longer available for this event.
To request a late registration or to cancel your booking, please contact Treasurer@delvaljaguarclub.com