Date/Time
Date(s) - June 6, 2020
10:00 am - 4:00 pm
It is with the utmost regret that I need to inform you that both the Delaware Valley Jaguar Club's Annual Concours d'Elegance and the Delaware Valley Triumph Club's Cars & Motorcycles of England Show scheduled for June 6, 2020 at the Historic Hope Lodge in Ft. Washington, PA have been cancelled.
Several factors associated with the corona virus led to this decision by both clubs, including existing and potential travel restrictions and the uncertainty of whether or not Hope Lodge would be open to the public, which it currently is not. The most important consideration was the potential risk to volunteers, show participants and general spectators, many of whom fall into the high risk categories for infection. This risk is simply one we were not willing to take given what we know at this point in time.
Consideration was given to rescheduling one or both shows later in the year but as many of you are aware, the late summer/early fall time frame is already a busy time for cars related events. Not knowing the duration or scope of this medical crisis makes it very difficult to plan around a calendar of events that will likely be subject to many changes over the coming months.
Both clubs look forward to continuing the partnership with The Friends of Hope Lodge as we look to host the 2021 Concours d'Elegance and Cars and Motorcycles of England Show on June 5, 2021. We would ask you to check the club's website, www.delvaljaguarclub.com for updates on this and other events.
On behalf of the DVJC Executive Committee, we wish you, your family and friends good health through this unprecedented time.
Jim Sjoreen, Concours Chairman
Saturday June 6, 2020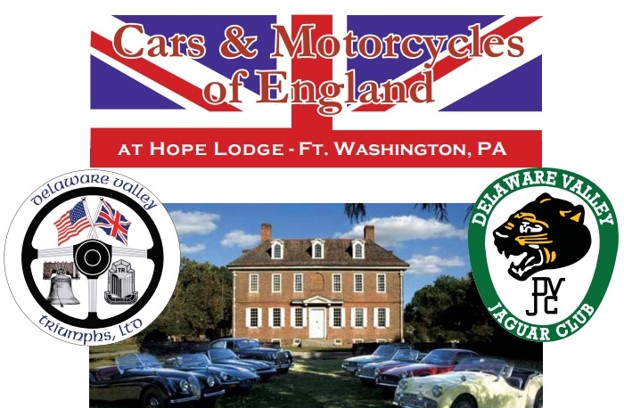 The annual JCNA sanctioned Delaware Valley Jaguar Club Concours d"Elegance and the Cars and Motorcycles of England is returning to the Historic Hope Lodge in Fort Washington, PA. While at the car show, enjoy the gardens, museum, live music, food and a craft beer tasting at the Ales and Petals event hosted by The Friends of Hope Lodge. Approximately 200 vehicles will be displayed including about 50 Jaguars and 150 other British marques.
Covid-19 Contingencies
Registration continues "open" for this year's Concours d'Elegance until such time as conditions warrant cancellation.
If the Concours is cancelled specifically due to Covid-19, full refunds will be provided.
Pre-registration required for Champion, Driven and Special Divisions
The sanctioned Concours will be conducted in accordance with applicable JCNA Concours rules.
All judged cars must be driven thru a Vehicle Operation Check Point.
Register online using the form below. Last day to register online is 5/30/2020.
Registration fees for judged cars: 1st car $60, 2nd car $30, 3rd and each subsequent car $20.
Registration for Display Only Jaguar cars (not judged) $35 per car. Use "Display" in the dropdown box for class.
DVJC volunteers may display their cars free of charge. Select "Volunteer/Display" in the form, below.
JCNA entry classes with complete descriptions are listed at the end of the form, below.
Field Opens at 8:00 a.m. – Judging begins at 10:00 a.m.
Ample parking on site for trucks and car trailers.
"Rain or Shine!" No rain date. No refunds.
If registering by mail or if you are entering four or more cars, download the PDF Concours Registration Form and mail your completed registration with your check payment. Mail registrations received after May 30, 2020 will be in Display Division.
Trophies awarded for Champion, Driven, Preservation & Special Divisions, Best of Show, Longest Distance.
Questions, issues or problems, contact concours@delvaljaguarclub.com.
By submitting the Delaware Valley Jaguar Club Concours Online Registration Form, below, I hereby acknowledge and certify that I own the car(s) described on it. In consideration of the right and privilege to enter and participate in this event and other valuable consideration, and intending to be legally bound, I agree to release and hold harmless the Jaguar Clubs of North America, Inc., the Delaware Valley Jaguar Club, Delaware Valley Triumphs and Historic Hope Lodge, event sponsors and the Concours committee from any and all liabilities for injuries, damage or loss arising from my entry, attendance, or participation in these activities.
Event Type:
Registration/Tickets:
PLEASE NOTE: Registered DVJC Members - if you have NOT logged in, please LOG IN HERE before registering for any event. This will prepopulate the registration form and keep the member lists and event records in order. Thank you!
Online registrations are no longer available for this event.
To request a late registration or to cancel your booking, please contact Treasurer@delvaljaguarclub.com
Official JCNA Concours d'Elegance Competition Classes
CHAMPION DIVISION CLASSES
C1/PRE:
Classics (Pre-XK engine) Tourer, OTS, DHC and Saloons: Swallow, SS & SS
Jaguar (1927-51)
C2/120:
XK 120 (1948-54)
C3/140:
XK 140 (1955-57)
C4/150:
XK 150 (1957-61
C5/E1:
E-Types, Series 1 (1961-67)
C6/E2:
E-Types, Series 1.5 (1968) and Series 2 E-Types (1968-71)
C7/E3:
E-Types, Series 3 (1971-75)
C8/SLS:
Early Large Saloons: MK VII, MK VIII, MK IX, MK 10, 420G, (1950-70);
Early Small Saloons: MK 1 (2.4 & 3.4), MK 2 Series (2.4, 3.4, 3.8 liter, Daimler
V8), 240, 340; S-Type 3.4S, 3.8S, & Jaguar and Daimler 420 (1955-6
C9/XJ:
XJ6/12 Series 1 Saloons (1968-73); XJ6/12 Series 2 Saloons and Coupes (1973-
79); Series III XJ6, XJ6 Sovereign and XJ6 VDP (1979-87); Series III V12 and
V12 VDP (1979-92) See Note 1
C10/XJ:
XJ6 (XJ40) Sedans (1987-94), XJ12 (XJ40) (1993-94); XJ6/12/R, (X300) (1995-
97) See Note 1
C11/J8:
XJ8/R Sedans (X308) (1998-2003), XJ8/R Sedans (X350 Alloy) (2004-2009)
See Note 1
C12/JS:
XJ-S/SC (1976 - 1991 Pre-Facelift) Coupe, Cabriolet, H&E Convertible,
Convertible, XJR-S Le Mans, XJR-S Jaguar Sport.
C13/JS:
XJS (1991 - 1996 Facelift) Coupe, Convertible, XJR-S Jaguar Sport.
C14/K8:
XK8 Coupe and Conv. (1996-2006), XKR (1999-2006)
C15/XK:
XK and XKR Coupe and Conv. (2007-On)
C16/SX:
S-TYPE Sedans (1999-2008), X-TYPE Sedans and Estate Wagon (2002-2008
C17/PN:
Preservation Class (more than 35 years old)
C18/PN:
Preservation Class (20 to 35 years old)
C19/FJ:
XF Sedans (2008-On), XJ Sedan (2010 [as 2011 model year] – On),
XE (2016 Model Year)
C20/F:
F-TYPE (2013-On)
C21/FP:
F-PACE (2016-On)
Note 1: Majestic, Daimler, Daimler Double Six, Daimler Sovereign, and Daimler
Majestic models are eligible for Champion Division Classes C9/XJ and C10/XJ
according to their years, engines, and body styles.
DRIVEN DIVISION CLASSES
D1/PRE:
All Classics (Pre-XK engine) and XK 120, XK 140, XK 150
D2/E1:
E-Types (1961-67)
D3/E2:
E-Types Series 1.5 (1968) and Series 2 E-Types (1968-71)
D4/E3:
Series 3 E-Types (1971-75)
D5/SLS:
Early Large Saloons: MK VII, MK VIII, MK IX, MK 10, 420G, (1950-70);
Early Small Saloons: MK 1 (2.4 & 3.4), MK 2 Series (2.4, 3.4, 3.8 liter, Daimler
V8), 240, 340; S-Type 3.4S, 3.8S, & Jaguar and Daimler 420 (1955-69)
D6/XJ:
XJ6/12 Series 1 & 2, Saloons and Coupes (1968-79); Series III XJ6, XJ6
Sovereign and XJ6 VDP (1979-87); Series III V12 and V12 VDP (1979-92) See Note 1
D7/XJ:
XJ6 (XJ40) Sedans (1987-94); XJ12 (XJ40) (1993-94); XJ6/12/R, (X300) (1995-
97) See Note 1
D8/XJS:
XJ-S/SC (1976 - 1991 Pre-Facelift) Coupe, Cabriolet, H&E Convertible,
Convertible, XJR-S Le Mans, XJR-S Jaguar Sport.
D9/XJS:
XJS (1991 - 1996 Facelift) Coupe, Convertible, XJR-S Jaguar Sport.
D10/K8:
XK8 Coupe and Conv. (1996-2006), XKR (1999-2006)
D11/XK:
New XK and XKR Coupe and Conv. (2007-On)
D12/J8:
XJ8/R Sedans (X308) (1998-2003), XJ8/R Sedans (X350 Alloy) (2004- 2009)
See Note 1
D13/SX:
S-TYPE Sedans (1999-2008), X-TYPE Sedans and Estate Wagons (2002-2008)
D14/FJ:
XF Sedans (2008-On), XJ Sedan (2010 [as 2011 model year] – On) XE (2016 Model Year)
D15/F:
F-TYPE (2013-On)
D16/FP:
F-PACE (2016-On)
Note 1: Majestic, Daimler, Daimler Double Six, Daimler Sovereign, and Daimler Majestic
models are eligible for Driven Division Classes D6/XJ and D12/J8 according to their years,
engines, and body styles.
SPECIAL DIVISION CLASSES
S1/PD:
Factory-produced and prepared Competition Jaguars, Factory-sponsored
Competition and Limited Production Jaguars and Production Jaguars privately
prepared and modified for competition
S2/MOD:
Modified
S3/REP:
Replica (non-production, Jaguar powered)