Date/Time
Date(s) - July 21, 2018
8:00 am - 12:00 pm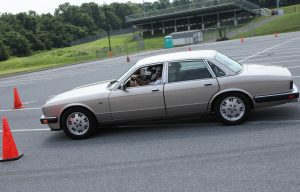 Saturday , July 21, 2018
8 AM to Noon
Garnet Valley High School
Home of the Garnet Valley Jaguars
Smithbridge Road, Glen Mills, PA 19342
JCNA MEMBERS ONLY DRIVING THEIR OWN CARS
Event covered by J. C. Taylor Insurance, $2 million aggregate
Lunch (not included in Registration) after the event at a local restaurant
The JCNA slalom provides a convenient "mini-track" experience to drivers of all ages with all types of cars. This event is also a family sport for parents, spouses, children and grandchildren as participants or spectators. We can practice our vehicle control and driving expertise in a safe, well-controlled environment free from the hazards of wheel-to-wheel competition with other cars. The race is just you and your car on the course against the clock. Some drivers compete for national awards. Some come just to enjoy the precision driving exercise. Regardless of your competitive urges, you can practice your steering, braking and car control techniques at your own pace. No special preparation necessary.
JCNA Slalom Rules including Car Classifications
Pre-registration at the registration form below is recommended. Pre-registration Fee is $25.00
Registration Fee Day of Event is $35.00
For questions please contact Event Chairman Rich Rosen at slalom@delvaljaguarclub.com
Event Type:
Registration/Tickets:
PLEASE NOTE: Registered DVJC Members - if you have NOT logged in, please LOG IN HERE before registering for any event. This will prepopulate the registration form and keep the member lists and event records in order. Thank you!
Online registrations are no longer available for this event.
To request a late registration or to cancel your booking, please contact Treasurer@delvaljaguarclub.com